Join us in learning how Exporting also plays a role in the success of Online and E-commerce B2B Businesses. Learn about the basics and the ins and outs of Exporting from 2 Experts in the industry: Mel Nava – Founder and CEO of 1Export Dom Milan.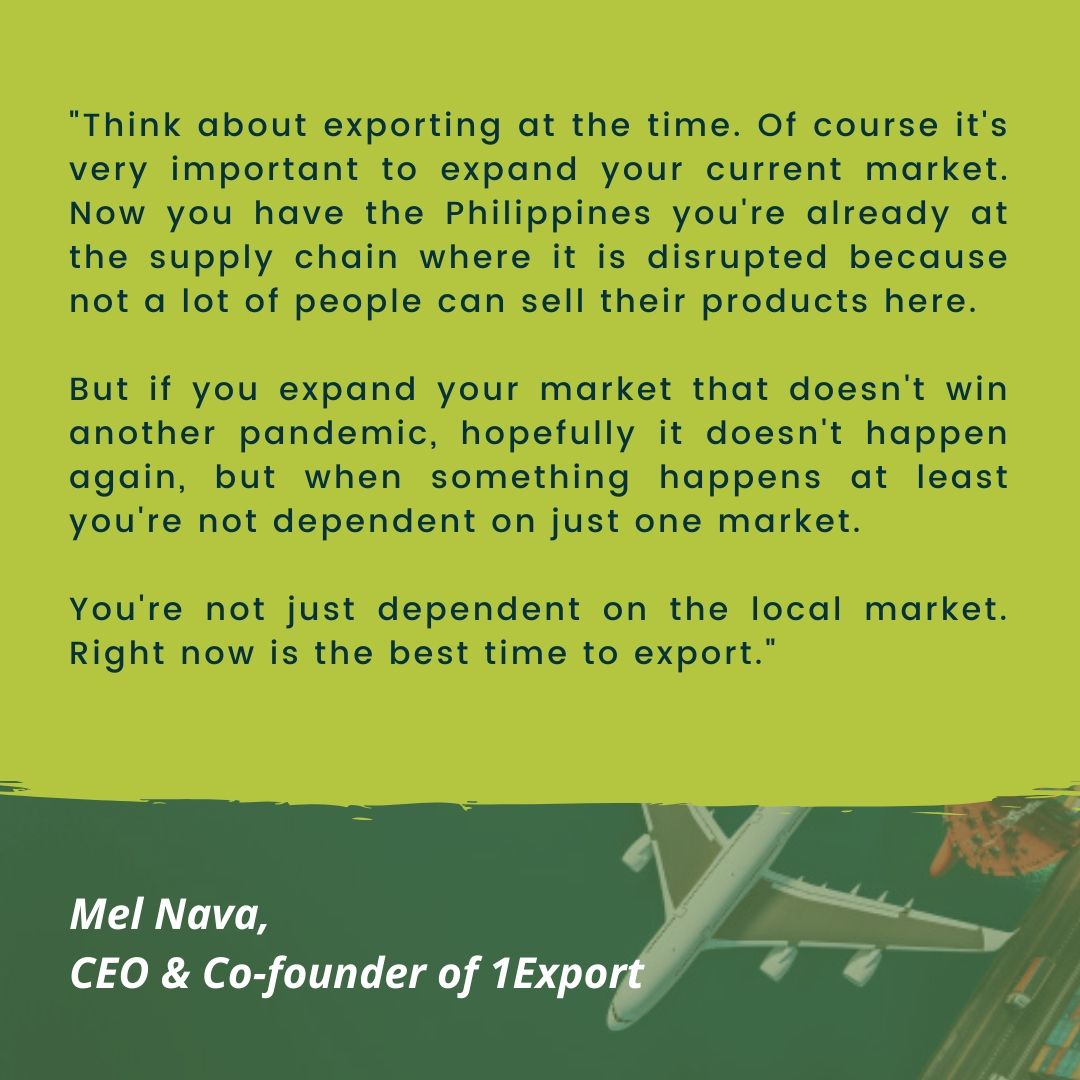 Learn about the basics and the ins and outs of Exporting from 2 Experts in the industry:
Mel Nava – Founder and CEO of 1Export
Dom Milan – Head of Sales of 1Export
1Export is a new BizSolutions Affiliate partner of UnionBank Globallinker. They provide full Export facilitation services, registration services and even as far as marketing services to SMEs.
This online learning is powered by www.olern.com
INTRODUCTION
From the last Unionbank Global Linker's SME learning series you know with that of many topics in the past including how to go digital to future-proof your business. We also had discussions on maximizing degeneration in the digital world as well as data privacy and how you can protect your business in your customers. You know if you miss those episodes go and watch them on the owner page, https://www.facebook.com/olern.ph/ i'm sure you're going to learn a lot from those episodes. On this episode they talked about how you can export your products to other countries to help your business.Many of you are wondering how you can do that because it's a global stage nowadays are not just limited in your own city in your own province or in even in the whole Philippines you can actually export your products and sell to customers around the globe.
Hindi natin masyadong kabisado but if you are willing to learn today to tell us more about exporting. Yes I think it's a big pot that has a big potential dahil iba ang export products, they are of quality. Kinakabahan ang marami, natatakot sila na baka mahirap mag mag mag export to other countries but in reality yan may mga companies like 1Export who are willing to help them fast track yung exporting process.
Ecommerce di ba saw a lot of people also encounter for their clients before. We have today guys who can help you and ecommerce can definitely help you.An online website or ecommerce is not just about a business to customer or B2C type na transaction and business-to-business dito we can maximize the channel for exporting . Isa pang maganda dyan is yung pang nag export ka bultuhan deal kumbaga has big volumes and of course hopefully you'll also get more revenues out of more more profits.
1Export is a one stop shop, end-to-end platform helping MSMEs with other exporting needs to everything from Documentation we assist in terms of labeling and marketing in terms of order processing and finding buyers abroad currently help excel products of a small and medium businesses in the US, Australia and the Middle East and Singapore market but of course the proper business with all of the exporting goods and everything we learned here in Manila.
DIFFERENT KIND OF EXPORT
Export does not necessarily have to be sending goods. It's not just about products, it can be like videos or even online services are also a way to export. If you're a virtual assistant and you assist somebody on the internet as a sample, that's a form of exporting in the Philippines.
"So let me try and convince you why you should start exporting now. Think about exporting at the time. Of course it's very important to expand your current market. Now you have the Philippines you're already at the supply chain where it is disrupted because not a lot of people can sell their products here. But if you expand your market that doesn't win another pandemic, hopefully it doesn't happen again, but when something happens at least you're not dependent on just one market. You're not just dependent on the local market. Right now is the best time to export."
Expected to be given that most economies are down so if you know you can act get raw materials cheaper produced cheaper and then make more profit from the exchange rate and again played as an essential activity it's not going to stop as mentioned new government encouraged during the time of a recession or a pandemic or a downturn because it's a way for them to be able to augment losses in the economy and so right now is the best time to do it. It's the best time to think about it.
BASIC NECESSITIES: MOST IMPORTANT EXPORT
During this time of covid people reorder ties the bottom to which is safety needs and psychological needs right now people ties food water and then percent alcohol medical mask sachet this is not only true for you know consumers but also the market itself the buyers traders everyone would like to sell and buy safety and psychological needed products.
Your products should fall under one of these categories especially if you're targeting a COVID-19 stricken market which is most if not all right so a next will be presenting the different customers that you know you target when you do exporting so we have B2C, B2B and for distribution would fall under selling to consumers to government to institutions and distribution so as of the moment we are under covid so most of the products that these customers are interested in are usually still you know food the necessities like noodles can goods and a face mask alcohol so be it if you're trying to sell to institutions the government to consumers to distribution they most likely would only be interested to products that an answer to the psychological or the safety needs.
MOMENTUM OF COVID-19 IMPROVEMENT
On the improvement of COVID-19 in the next coming months so these are still the same customers that you'd be working with. If you want to export so distribution is making sure our products are available in different retail markets government or selling it to institutions directly like selling to restaurants to hotels directly or sometimes selling directly to consumers just like what the topic of this webinar is about e-commerce so selling in Amazon, Alibaba, etc. setting a map this map shows us the countries which are affected by COVID-19 heavily and the markets which aren't that affected so as you can see the darker the shade of the read the more affected the market market is so mostly this would be the North American market, Europe of course and China some parts of Asia as well. As you can see if you try to export to countries with the dark red, you see this would be America so they would most likely be interested if you're going to sell them basic necessities like food and medical supplies. If you try to sell them products that are considered luxury they will likely not buy those products as of the moment. This is very understandable and you know a bit of a common sense of the moment so but what if you try to export what you currently have and what if it doesn't fall into one of the necessity medical supply products so you target those markets which aren't that affected by COVID-19.
Moving forward I would like to just share about exporting basically the Philippines is known with two main products of course Dried mangoes and Coconut products so these products have penetrated the mainstream market meaning the Americans in America by days the Japanese in Japan by these not just the Filipinos abroad so what did they do for dried mangoes basically they tried to sell it first locally.
LOCAL TO GLOBAL EXPANSION
When the product is accepted in doing good here(locally) they say why not sell this abroad why not expand their market as for the coconuts well this is a bit of a recent craze well you know when popular celebrities hollywood celebrities endorse drink Coconut Water or you know a busy always good to my skin so basically that's where the trend started and luckily the Philippines agricultural economy we have lots of coconuts sure able to penetrate this market so what were trying to say here is that there two things you have to consider when exporting that you try to build your brand first your locally and then go expand globally but not all products do this some are able to penetrate the mainstream market right away but if you would give it a try, we would suggest that you develop here everything. Try to stabilize your manufacturing, your capacity before going global.
MSME'S PROBLEM IN EXPANDING: CAPACITY
When expanding, the problems we encounter with outr MSME's is the first one would be the production capacities so this is mostly the problem of MSME's. To the bigger companies but for an MSME that would be a problem most likely they can only produce less a two containers per month so an importer you know they would pay for listing fees they would invest in a marketing but if they see that there is a problem with capacity they might not be willing to take in your product so that's one of the problems the next one would be unit of economics over the pieces is basically the price and the cost to manufacture in the philippines is relatively high compared to other countries
INTRICACIES OF EXPORTING ON DIFFERENT COUNTRIES
The intricacies of exporting each exporting country or importing country have their own regulations so let's say for the US as you can see on the right that is the nutrition information of free no that's for the Australian nutrition information so you can see it's very complicated on the on the left it's the nutrition facts for the us so when you try to sell your product, example is Lucia food product you have to adhere to the different nutrition facts presentation of different countries and it's not just the nutrition information there is a different way of declaring your ingredients list the way you design your packaging so it's different. We consider labeling as a highly technical country and again I would just like to mention that one export is developing a platform on AI where you can send a picture of your label and we will translate it and transform it into an export ready packaging.
BUYER CONTACTS
For an MSME who is just starting to export and they will, they would consider looking for a partner. It is very difficult but gladly we have enough contacts to help you with what we have worked with. We were employed by the bigger companies and so we have contacted buyers and we can try to offer your products to them so this is one way our company can help.
TAILOR FITTING YOUR PRODUCT TO THE MARKET
Bringing your product to another country means as an example a pizza franchise you would want to bring in China, you have to make sure that you know the menu is in chinese if you time to bring it in china that may sound like simple or basic but it actually a regulation they won't allow you to set up there unless it passes through the regulations and then the other thing is if it appeals to them I know the aesthetics you have to understand that it's not just about who i have a product and this is the technicalities of this product. It is ok now for export but you have to see this product is this the kind of product that the target market would be interested in in terms of the color, the shade and taste. You have to look into that as well and we can help you with that.
The next would be government and the export documents so this is very much technical already there are some documents that our first shipment and then others that you have to renew every year and we also have that in our platform. We can help you process some export documents and then once you do that you try to find the customer when you try to find the customer you try to close a deal of course you have to deal. You have to talk about the price, the delivery date, the capacities, etc so this is one of the difficult parts. We can try to help you look for a buyer and we can suggest pricing as well. You know I think it would be best if you sell it at this price etcetera so you have to understand if you are answering the blue ocean market ablution market or red ocean market so we're going to help me with that as well.