2020 has been a challenging year for everyone especially for the Philippines. Last January, Taal Volcano erupted leaving many people displaced and losing their way of living. Many businesses were also affected, particularly those in southern Luzon. Transportation has been limited, challenging the way we work and also the tourism sector also suffered.
When COVID19 arrived in the last week of January with just a few confirmed cases, the government did expect that it would hit us so hard. In the middle of March, the enhanced community quarantine (ECQ) began and thus began our transition into a "new normal"'. This situation has paralyzed the global economy. Globally, production in factories stopped, leaving people unemployed and companies in dire straights. No one was allowed to go to work to lessen the exposure to the virus. Work from home or remote work was encouraged for jobs that can be done online.
Given this, micro, small and medium enterprises(MSMEs) are the ones most greatly affected and continue to suffer. They had to stop their production process resulting in unemployment for all those that were affected. The local economy has been distorted. The supply chain has changed. It was really a difficult time for everyone.
Now that our economy is opening up and trying to cope in the new normal scenario in the middle of the year, the best way to help our economy bounce back is to support the MSMEs. *MSMEs compose a majority of our registered businesses in the Philippines with a small percentage being big multinational companies that also started out like as MSMEs before they grew to what they are today. *Realizing this, 1Export, an export enabler company from the Philippines, by helping them to go global, came up with a great initiative. Caravan was born as a way to* support our local MSMEs as we empower overseas Filipinos (OF). This is an effective way to help bounce back the Philippine in the middle of this pandemic.*
Caravan is an e-commerce website powered by 1Export that will help our MSMEs to bring their world-class products in the USA. The overseas filipino (OF), at least a bonafide US permanent resident, would be the product distributors turned brand ambassadors of the well-loved and other exciting Pinoy products. It will be a great way of sharing our rich Filipino culture through the digital buyanihan that will be facilitated through Caravan. It is also open for dropshippers and other independent small and medium scale resellers and store owners all throughout the US.
How does Caravan works?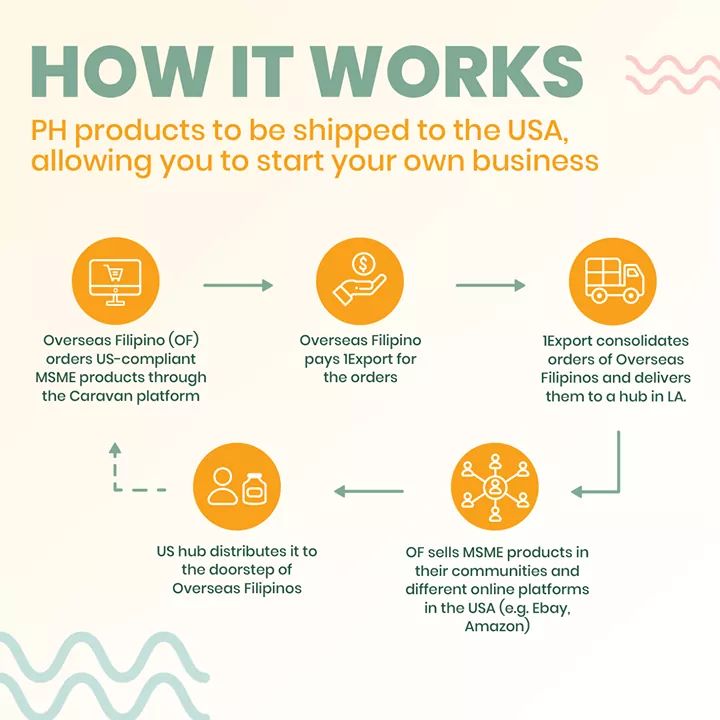 Why should you be part of Caravan?
Caravan is a digital platform in which we showcase different Pinoy food and other consumer products that are US FDA-approved and compliant. It would be an online community celebrating the boldness, creativity and the dynamic components of our Filipino culture. Filipino food was coined by the late* Anthony Bourdain as the "next big food trend" and will be America's next favorite cuisine.*
"Be a DIGITAL PINOY HERO through CARAVAN.
Bumili ng mga produktong Pinoy… nakatulong ka na, kikita ka pa"
This is not impossible since Pinoy foods are really well loved and there's a Filipino community in almost everywhere in the world. These communities acted as your family away from home sharing resources if necessary. All of them have almost the same story why they chose to left the Philippines and worked overseas. They have practiced bayanihan during hard times but now it would be a digital buyanihan, a safer and more convenient way through Caravan.
So what are you waiting for? Be part of the Caravan project NOW!
Be a modern digital hero of Filipino MSMEs while being safe in the comfort of your US home.
Sign up now at [https://caravan.1export.net/register](https://caravan.1export.net/register).
You may also reach us via email at trade@1export.net or contact us via (+63)917 703 2435(Viber & Whatsapp).